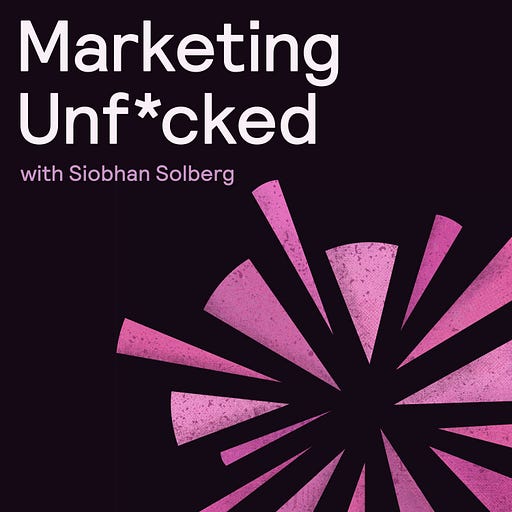 Jun 14 • 29M
Build better relationships
Juliana Jackson
The only actionable podcast to help you unfuck your marketing and run a business that gives a shit. Listen in on raw conversations with experts about ethics, privacy, and sustainability in marketing.
Strong partnerships begin with real relationships, and that's definitely true when it comes to partner marketing. Juliana Jackson explains how SaaS companies can use research and data to better understand the needs of agencies, leading to mutually beneficial partnerships for both parties — and for the users on the other end of the line, too.
Marketing agencies and SaS companies can partner up to gain leads, grow revenue, and offer a better customer experience. But that's a lot easier said than done. In many cases, software providers don't truly understand an agency's needs, and agencies don't want to change the way they do things. So, how do we create two-way partnerships that benefit everyone involved?
Join me on Marketing Unf*cked as I speak with marketing specialist Juliana Jackson. We discuss how to create stronger partnerships between SaaS companies and marketing agencies by using data, being kind, and forging more authentic relationships from the start.
We cover how to build trust by starting small, and why a zero-expectation mindset helps form connections. We go over tips on using research, data, RFM segmentation, and tech to gain better understandings — because that leads to better relationships, better business, and better everything.

In this episode:
When SaS companies don't understand agencies, prospecting can come across like spam.

If software providers talk to agencies, they can learn what their interests are.

Develop a mindset of helping others without expecting anything in return.

Data is important, but remember there's always a person at the other end of the line.

Before launching a full partnership, start with small collaborations to build trust.

People know what works for them. Agencies may be hesitant to reinvent the way they do things.

Make sure you get along, and align on values, before committing to work together.

Be present, available, and helpful. It goes a long way.

Customer support logs can be a goldmine of information.

Track customer behavior to guide your content creation, curation, and updates.

How to use RFM (recency, frequency, monetary value) segmentation to understand customer behavior.

Use your tags wisely to gain new insights.

Understanding your customer leads to a better relationship, which ultimately gives you better everything else.
Links
Juliana Jackson
The End of Average - Todd Rose
RFM Segmentation