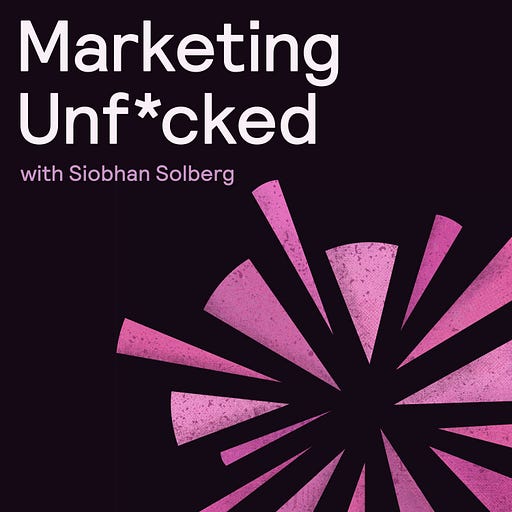 Jun 28 • 29M
Make SEO Part of Your Growth Strategy
Maeva Cifuentes
The only actionable podcast to help you unfuck your marketing and run a business that gives a shit. Listen in on raw conversations with experts about ethics, privacy, and sustainability in marketing.
Good SEO is not just a box to check, but should be a key part of your core business strategy. Maeva Cifuentes explains how strong SEO starts with good research, a holistic approach, and a consistent framework.
SEO can be defined as the practice of making your website findable on search. But there's a lot more to it than checking a few boxes. You need good research, a holistic approach, and a consistent framework to make sure your SEO delivers results.
Join me on Marketing Unf*cked as I speak with Maeva Cifuentes, content marketing specialist and founder of Flying Cat Marketing. We discuss the value of quality SEO that goes beyond keywords and backlinks to become part of a company's very foundation.
We'll dig into how to use research and data to understand what customers need, how to build valuable content that actually works, and why you need to have an end goal from the very beginning.
In this episode:
Good SEO should be a core part of your business strategy.

SEO is about building assets that drive growth.

Every company is different, and will need different strategies.

The best SEO is holistic, with multiple areas to balance.

Which kinds of businesses benefit most from SEO?

Start with the end goals for the company, and set KPIs based on those goals.

More traffic doesn't mean more conversions.

Don't focus too much on rankings, and remember to create good content.

How do we measure the ROI of our SEO?

The FGS Framework: Foundations, Growth, and Scale.

Use market research to understand the customer's journey and pain points.

SEO strategy can help guide a company's decisions.

Which kinds of content does your website need?

A few thoughts on landing pages, subject matter experts, and content writers. We have to help clients understand the value of SEO.

If you know where you're going, you know what to prfioritize, and you'll see bigger results faster.
Resources: